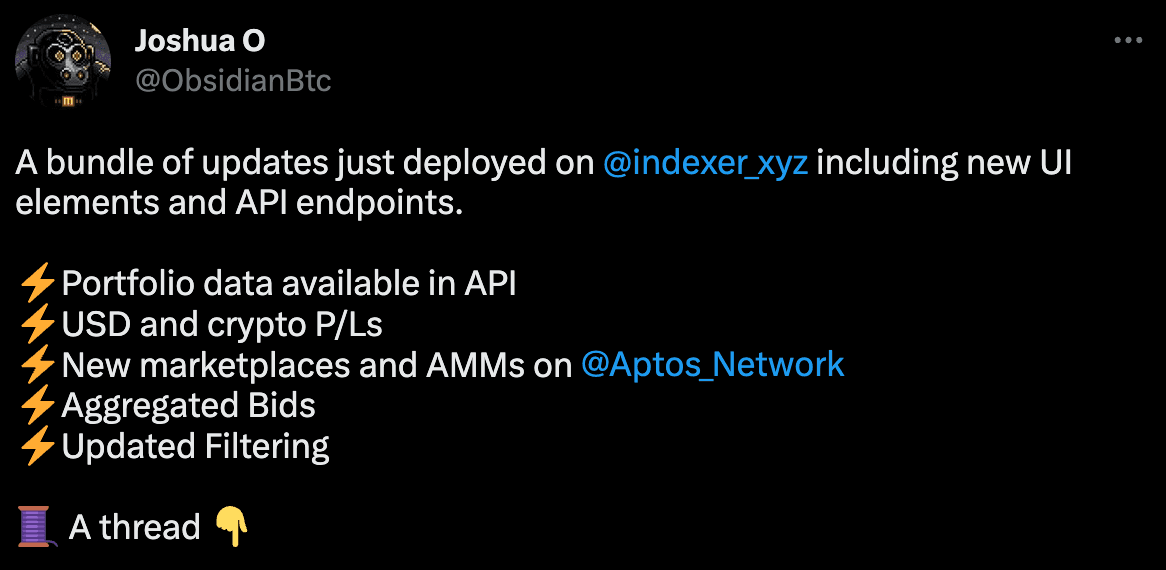 Exciting Updates: Unlock the Full Potential of Indexer.xyz for Your NFT Adventures
The Indexer.xyz team is thrilled to announce a bundle of new API endpoints and UI elements for both our consumer and business users across the Stacks, NEAR, Aptos, and Sui blockchains. These enhancements will help you better analyze your NFT portfolio, discover new marketplaces, and find the perfect NFTs to add to your collection. Let's dive into the exciting updates!
#1 Portfolio Data via API
Discover your NFT portfolio's true value
As an NFT collector, you want to know the value of your portfolio in USD and Token terms. How much have you spent? How much have you earned? What are your unrealized and realized gains?
To provide these insights, we've launched three new endpoints: "wallet_holdings", "wallet_stats", and "wallet_trades". These endpoints allow you to create comprehensive portfolio views and profit/loss statistics with minimal effort.
Check them out in action at https://indexer.xyz/api-explorer.
#2 New Marketplaces and AMMs on the Aptos Network
Expand your NFT trading horizons
As an NFT buyer and seller, you want to see market liquidity across every marketplace to ensure you're getting the best deal. We've got you covered! We've added support for Topaz, BlueMove, Souffl3, Seashrine, and OKX, giving you even more options for trading and discovering unique NFTs.
#3 Aggregated Bids
Unlock instant liquidity for your NFT assets
For NFT collectors looking to sell their assets, collection offers are essential for providing instant liquidity.
That's why we've aggregated collection offers and bids across all marketplaces, giving you a clear view of real demand and helping you make informed decisions when selling your NFTs.
#4 Updated Filtering
Find your perfect NFT with ease
As a collector, you want to filter and sort NFTs based on various parameters to find the perfect addition to your collection.
We've added new filters and support for attributes, rarity, price, and marketplaces in collection and portfolio views. This enhanced filtering system makes discovering and acquiring your next prized NFT a breeze.
---
With these exciting updates, Indexer.xyz is your ultimate destination for unlocking the full potential of your NFT experience. Harness the power of our enhanced features and make the most of your NFT adventures!