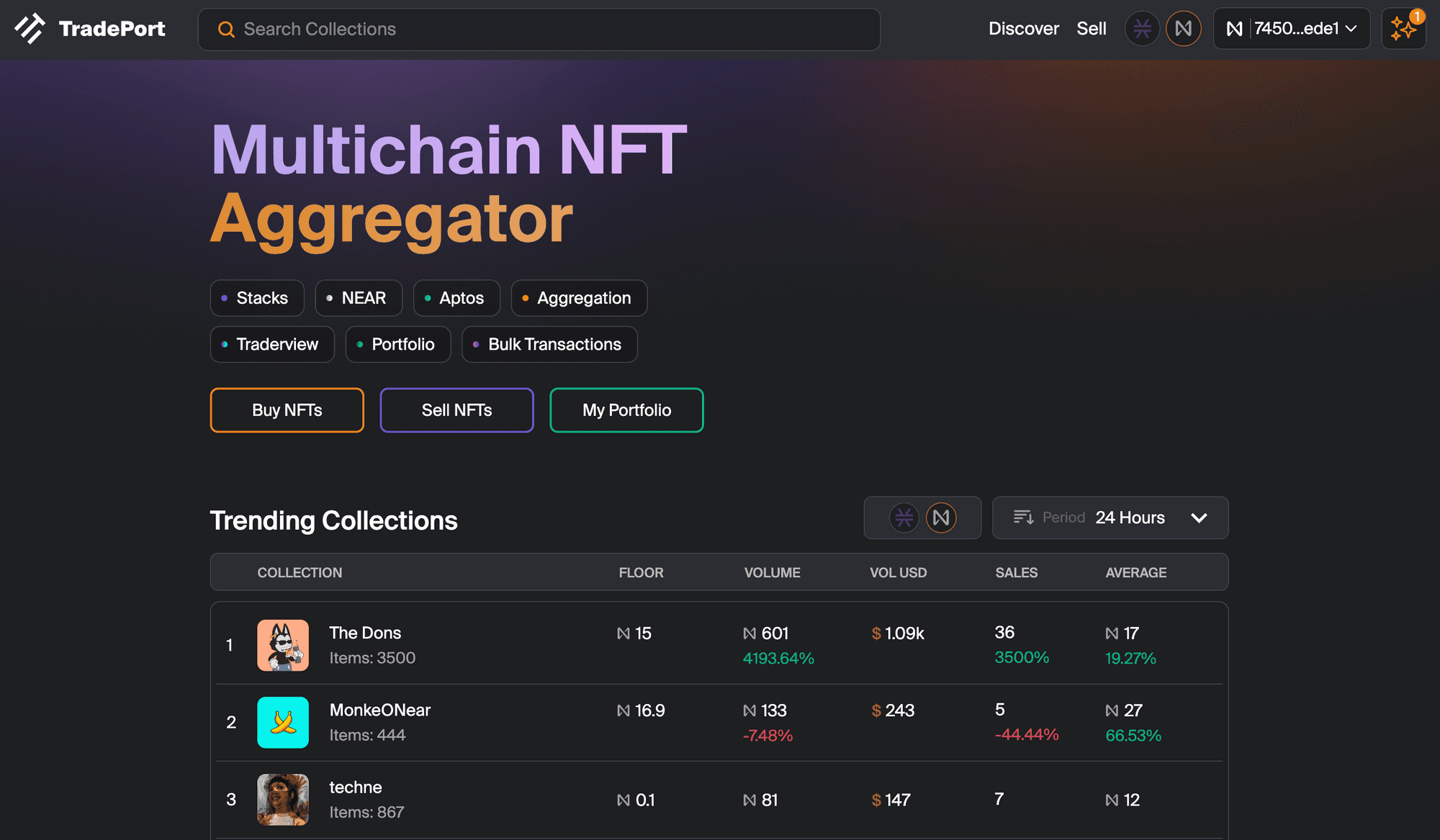 Data is the foundation of any application. The more robust the dataset, the more robust the features on a given platform can be. At Indexer, our goal is to provide the most comprehensive set of data for all things related to NFTs. TradePort.xyz is a trailblazing NFT trading platform, created by the Indexer team, that gains a unique advantage by utilizing the data provided by Indexer.
The trader experience on TradePort.xyz offers much more than just the buying and selling of NFTs. Here are a few ways that TradePort has used Indexer to develop differentiating features.
Breakthrough Portfolio Views
Track your wallet through metrics such as profit/loss, USD/native token value over time, and best-performing NFTs.
Complete Trader Views
Deep analytics for serious traders including floor wall, rarity distribution, real-time listings/trades, and best deals by rank.
"Firehose"
Live view of listings and trades in real-time across one or multiple ecosystems.
Triple Threat Trading
Bulk listings, sales, and transfers.
Aggregation
TradePort displays NFTs listed on any marketplace within an ecosystem.
Perhaps the most exciting aspect of all this is how simple it was for TradePort to add additional blockchains to their platform. Because Indexer uses the same data schema across all chains, there was no need to change the architecture to handle the additional chains.
TradePort x Notifi
Additionally, TradePort is excited about a brand new partnership that will take the trading experience to the next level. We're excited to announce the integration of Notifi as a partner in their Sui Launch! At TradePort we build tools for serious traders. We provide traders with all kinds of data and analytics to make informed trades. If you're serious about trading, chances are you're going to want notifications, and you probably prefer to have those notifications customized via Discord, Telegram, SMS, Twitter.
We're thankful for the flexibility and convenience we're able to offer our traders through Notifi. All the features highlighted above will now be even easier for our traders to access and take advantage of.
You may ask yourself "How can TradePort partner in Notifi's Sui launch when Sui isn't live on the site?" Indexer and TradePort will be expanding to all major chains. However, Sui might come sooner than you think!